Black Silicon Carbide (SiC), also known as Carborundum, is a semiconductor containing silicon and carbon with chemical formula SiC. The Silicon Carbide crude is produced by combining silica sand and carbon in an Acheson graphite electric resistance furnace at a high temperature, between 1600 °C (2910 °F) and 2500 °C (4530 °F). The SiC microcosmic shape is a hexagonal crystal, mohs hardness is 9.3, micro hardness is 2940-3300kg/mm2, specific gravity is 3.20-3.25g/mm3, bulk density is 1.2-1.6g/mm3.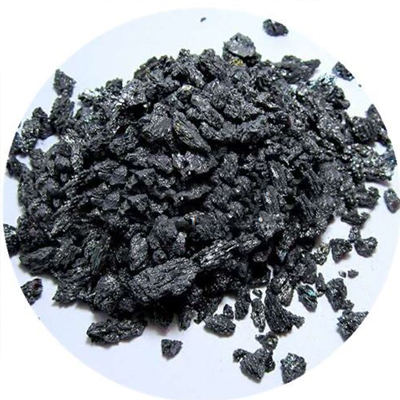 The hardness of black carborundum is between brown fused alumina and diamond, the mechanical strength of it is higher than that of brown fused alumina, and it is crisp and sharp. Compared with green carborundum, the price of black carborundum is cheaper. Furthermore, the SiC content of black silicon carbide is about 98.5%, and the toughness of it is higher than that of green silicon carbide. The black silicon carbide is mostly used for processing the materials with low tensile strength, such as glass, ceramics, stone, refractory, cast iron and non-ferrous metals. Mainly used for grinding cast iron and non-metallic materials.
Grit Size
Chemical Composition % (by weight)
SIC
F.C
Fe2O3
12#-90#
≥98.50
≤0.15
≤0.15
100#-220#
≥98.50
≤0.15
≤0.15
240#-600#
≥98.00
≤0.15
≤0.15
800#-1000#
≥98.00
≤0.20
≤0.20
1200#-1500#
≥97.50
≤0.20
≤0.20

The different purpose of silicon carbide (carborundum):
1, Abrasives.
Silicon carbide can be used to manufacture bonded abrasives, coated abrasives and other abrasive for the processing of glass, ceramics, stone, cast iron, some non-ferrous metals such as cemented carbide, titanium alloy, high-speed steel cutters and grinding wheels mainly because of its high hardness, good chemical stability and certain toughness.
2, Refactory and corrosion resistant materials.
Silicon carbide can be used for grinding tools, shed board and saggers in klin which ceramic products are fired, silicon carbide brick for vertical cylinder distillation furnace in zinc smelting industry, aluminum electrolytic cell lining, crucible, small furnace material and other silicon carbide ceramic products mainly because of its high melting point, good chemical inertness and thermal vibration resistance.
3, Chemical applications.
Silicon carbide can be used as purifying agent for steel smelting, deoxidizer for steelmaking and tissue improver for cast iron.This usually USES low-purity silicon carbide to reduce cost. At the same time, it can also be used as raw material for the manufacture of silicon tetrachloride.
4, Electrical applications.
Silicon carbide can be used as heating elements, nonlinear resistance elements and high semiconductor materials, heating elements such as silicon carbon rod (suitable for various electric furnace working at 1100 ~ 1500℃), nonlinear resistance elements, and all kinds of lightning protection valve pieces.